Open in alternate window
IBBM SABAH TOASTMASTERS CLUB
(Club No. 7671-51)
BANKER'S VOICE
---
For Members Only (Issue No. 5/Sept 2000)
---
---

President's Message



In penning my inaugural message for Banker's Voice as President, I reflected on how far the Club has progressed since its charter in August 1998. With great strides, I concluded with pride. From being a novice club, IBBM Sabah Toastmasters Club has taken off in a burst of energy. Members have discovered for themselves the satisfaction in learning by doing and found success when they tried. Whether it was a Workshop, Speechcraft, Contest, Mega Meeting or Installation Banquet, when we put our minds to it, the commitment always carried us through to another project well accomplished.
The Club has enjoyed a good year, and ended the last term as a President's Distinguished Club. It was a year of exciting challenges and new discoveries as we Moved Beyond. Our confidence and self-esteem strengthened when we were able to achieve 9 out of 10 goals set by Toastmasters International, hence the President's Distinguished Club status.
This term, our focus is our Presidential theme "Reaching Towards Excellence." The Exco and I are united in our vision to retain the President's Distinguished Club status and in fact, to aim for maximum ten goal achievement. As our membership grows, we also aim for personal growth and development in our members as they work towards their goal of becoming confident and effective Toastmasters. This is facilitated by the Toastmasters Club's positive learning environment, which equips us with skills in building bridges of communication.
Therefore, I stand confident that the IBBM Sabah Toastmasters Club will surely Experience the Breakthough. What we need is to Take the Challenge and Take Action. As the late African-American tennis champion Arthur Ashe once said, "If it had not been for the wind in my face, I wouldn't be able to fly at all." Taken positively, challenges become our learning opportunities.
It has also been said that excellence shall not remain alone. It shall attract neighbours. I therefore take this opportunity to urge all fellow bankers to find out what the club can offer you. Take this first step and you will not be disappointed. Say "Yes" to unleashing your full potentials and the discoveries you can make about yourself will amaze you.
Meanwhile, our quarterly bulletin "Banker's Voice" shall continue to be the channel for communicating activities related to IBBM Sabah Toastmasters Club. We shall endeavour to make it reflective of the zest and vigour we put in our activities. An exciting terms lies ahead; there's much to be done but I am confident that in the spirit of Toastmasters, we shall definitely Reach Towards Excellence!
Lim Mui Len, ATM-B, CL
President 2000/2001

---
Greetings to all
It is indeed a breakthrough experience for me when I accepted the challenge to be the Bulletin Editor this term. The decision to take up this new challenge was not easy for me. However, with support from fellow members, we have managed to come out with the first quarterly issue for the new term.
The theme for this year is "Reaching Towards Excellence." It is only natural that this theme permeates all activities of our club. Our bulletin is no exception as we strive to provide you with interesting articles. Further more, to make our bulletin more interesting and easier to read, we have come up with sections (eg. Messages, Manual Speeches, Happenings, Special Features, Milestones, Humour Session, Congratulations and Diary of Events) which we hope will become permanent features for all future bulletins.
On a more personal note, I would like to thank our President for having confidence in me to do this job. I'm looking forward to involve more members when we issue our next bulletin. Your feedback is invaluable.
Happy reading.

Linda Sia, CTM, CL
EditorNice President - Public Relations 2000/2001
---

Vice President Education's Column

"Life is a succession of lessons which must be lived and experience to be understood."
I am glad to be given the opportunity and entrusted with the responsibility to be your Vice President-Education for the term 2000/2001 so that I can experience and gain yet another lesson in life!
To kick off the term, a Vice President Education Sub-Committee was formed to serve you better. Its members comprise Kevin Lim, CTM, Wong Soo Fui, TM (Deputy), Amran Aliamat, TM, Susana Soon, TM, Tan Chui Lian, TM with Lim Mui Len, ATM-B as advisor.
Theme meeting: Charter Night on 9 August 2000;
Club's Humorous Speech and Speech Evaluation Contest on 27th September 2000; and
Speechcraft (4 sessions), to be held on 29 September 2000, 2 October, 6 October and 9 October 2000.
I must congratulate the members for their enthusiasm and commitment in their speech development. Since July 2000, a total of 19 speeches (a stable achievement indeed for a young club like ours) were presented with two educational goals achieved through our Madam President, Lim Mui Len, ATM-B (as Advanced Toastmaster Bronze) and VPPR, Linda Sia, CTM (as Competent Leader). Syabas!

Remember, the secret of getting ahead is getting started. So my fellow members, let's get started - be it your speech, evaluation, role-playing etc.

Yours in Toastmasters.

Kevin Lim, CTM
Vice President-Education 2000/2001

---
Message from
The Vice President Membership

First of all, may I take this opportunity to thank all members for having confidence and trust in me to serve as the Vice PresidentMembership for the term 2000/2001.
1 would also like to express my thanks to our IPVPM, Ong Wei Sah, TM, who built a strong membership foundation which allows me to carry out my assignment easier in time to come. The total member force as at last term, that is 30 June 2000, was
55. Thank you again for her outstanding leadership and achievement.
Our presidential theme for this term is -REACHING TOWARDS EXCELLENCE. Let's work hand in hand to achieve it.
Club Goal
Our president, Lim Mui Len, ATM-B, CL has set a target to recruit at least 16 new members for this term.
Membership promotion
As they say, "more new members will produce more new and creative ideas". Hence, in order to achieve the goal set and to encourage more new members to join the Club to build up the Club's strength, the EXCO at its last meeting decided to give out ten registration and half year membership fees free to the first 10 new members who sign up before 15 September 2000.
Member force
We have successfully recruited 5 new members in July 2000, making a total number of 60 as at 31 August 2000.
Another five new members, who are qualified for the above incentive, have submitted their application on 7 September 2000. Therefore, the Club now has a total member force of 65 at 8 September 2000.
I am very confident that the set target of 16 for this term will not be a problem for us to achieve.
Sub-Committee
In order to build up our team spirit, a Membership Sub-Committee has been formed recently. Thank you to David Sivapatham, TM who has agreed to assist me in the VPM Sub-Committee. I am appealing to all members to be my sub-committee members to work together in "Reaching Toward Excellence."
Fellow Toastmasters, let's Join me in promoting IBBM Sabah Taostmasters Club to our friends in a very personalised manner and let's all grow together!
Thank you.
Lai Pin Thai, CTM
---
From Left:-
Front Row: Linda Sia, CTM, VPPR (Bumiputra-Commerce), Betty Epin, TM, Treasurer (Sabah Bank), Kevin Lim, CTM, VPE (Arab M'sia Finance), Lim Mui Len, ATM-B, President (EON Bank), Cyril Tam, CTM, IPP (Sabah Bank), Lai Pin Thai, CTM, VPM (Bumiputra-Commerce)

Second Row: Richard A. Gontusan, CTM, Comm. Member (Sabah Finance), Wung Soo Fui, TM, Comm. Member (Standard Chartered), David Sivapatham, TM, Comm. Member (Bumiputra-Commerce), Amran Aliamat, TM, Secretary (EON Bank), Susana Soon, TM, Comm. Member (City Finance), Irene Wong, TM, Sergeant At Arm (Sabah Bank)
President

:

Lim Mui Len, ATM-B, CL
(EON Bank Bhd)

Immediate Past President

:

Cyril Tam, CTM
(Sabah Bank Bhd)

Vice President Education

:

Kevin Lim, CTM
(Arab-Malaysian Finance Bhd)

Vice President Membership

:

Lai Pin Thai, CTM, CL
(Bumiputra-Commerce Bank Bhd)

Vice President Public Relations

:

Linda Sia Henry Sum, CTM, CL
(Bumiputra-Commerce Bank Bhd)

Secretary

:

Amran Aliamat, CTM
(EON Bank Bhd)

Treasurer

:

Betty Bridget Epin, TM
(Sabah Bank Bhd)

Sergeant At Arms

:

Irene Wong Duadin, TM
(Sabah Bank Bhd)

Committee Member

:

David Sivapatham, CTM
(Bumiputra-Commerce Bank Bhd)

Committee Member

:

Wung Soo Fui, TM
(Standard Chartered Bank Bhd)

Committee Member

:

Susana Soon, TM
(City Finance Bhd)

Committee Member

:

Richard Albert Gontusan, CTM
(Sabah Finance Bhd)
---

"A Year Older, A Year Better"
By Lim Mui Len, ATM-B
When you were born, your parents IBBM KL held high hopes for your future. Your siblings IBBM KL & IBBM Penang Toastmasters Clubs welcomed their latest sister. There was never any doubt that you would grow up to make a mark of your own.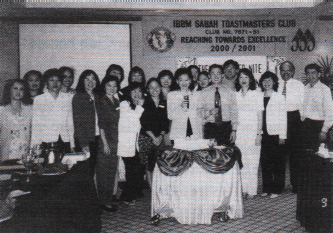 In your infancy, you were nurtured by your foster parent, KK Toastmasters Club, who took you under her wing. When you lacked strength, KKTMC supported you and when you needed feedback, she provided it in large doses.

Growing rapidly, you outdid yourself in your second year. A little Einstein, you amazed all with your pace of learning and excellent input/output. You seemed to thrive on positive reinforcement because it always spurred you on.

More members joined up as they learnt about your achievements and you gained in strength and stature. At all times though, you were mindful of your responsibility to discharge learning, listening and speaking skills. You heard no evil, saw no evil and spoke no evil but that did not mean you could not have fun and laughter. On the contrary, your members thrived because they were able to learn with fun and laughter!

Now, as you turn three, you are fully grown and a source of much pride to your parent IBBM KL. Everyone wishes you well and may you continue to reach towards excellence!
Ladies & Gentlemen, it is my pleasure to invite us all to rise and to join me in proposing a toast to IBBM Sabah Toastmasters Club and to wish her "Happy Birthday!" ...

August 2000 marked the 3rd anniversary of the birth of IBBM Sabah Toastmasters Club. So much has taken place since our inception ...
Lim Mui Len, ATM(B), CL found it to be a Special Occasion and paid tribute in her "graduating" speech delivered at the club meeting on 9 August 2000.
---

CHARTER NIGHT
By Lim Mui Len, ATM-B

YES! WE ARE THREE!
The Club celebrated its Charter Month during the Club's Training Meeting on 9 August 2000. Attendance was 28 of which 8 were guests/supporters. The members could feel the festivity as they arrived and why not - there were gaily decorated balloons and 'Happy Anniversary' adorned the backdrop.
The Toastmaster of the Evening, Kevin Lim, CTM controlled the meeting with panache. One Competent Leader and one ATM-B goals were achieved that evening through Linda Sia, CTM, CL and the President Lim Mui Len, ATM-B. An anniversary cake was wheeled in and members sang to commemorate the second anniversary of the Club's charter on 30 August 1998.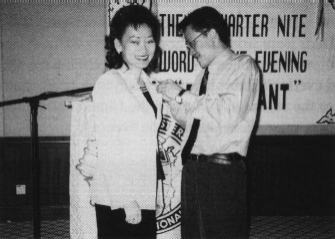 For the very first time, Best Table Topics ribbons were awarded and the Most Improved Table Topics Speaker went to Jennifer Chong, while the Best Table Topics speaker was secured by David Sivapatham, TM. It was also an eventful evening for member Devinder Kaur who delivered her ice-Breaker speech and who was duly rewarded with an ice-breaker ribbon.

Reflecting on our progress since our charter, the members have an occasion to feel justifiably proud of the growth that has taken place within the Club over the past two years. Here's hoping that IBBM Sabah Toastmasters Club will continue to grow from strength to strength, to Reach Towards Excellence, Take the Challenge, Take Action and Experience the Breakthrough!
---

IBBM SABAH TOASTMASTERS CLUB
- THE THIRD INSTALLATION BANQUET
By Wung Soo Fui, TM
By the third toast in honour of Toastmasters International, most of the over 500 Toastmasters and guests were nodding approvingly as they sensed the promise of a great party for the evening. Thereafter, the programme was unveiled with the precision of a well-greased machine. This was of course attributed to the hard work of the Organising Committee, under the able leadership of its chairperson, TM Jaye Boon, who had, right from the start, adopted the Club's theme of "Reaching Towards Excellence" as the guiding light for the mission. She had insisted on nothing short of excellence and ... Surprise! Surprise! That was what we got for the night.
The night was graced by the present of our Guest of Honour, the Director of IBBM, Malaysia, Dr Tan Keng Song, who flew all the way from Kuala Lumpur for the occasion. Also flying in from outstation was the Division K Governor, DTM Eleanor Wong, who was there to install, in the solemn tradition of Toastmasters International, the incoming Committee for term 2000-2001, immediately after discharging the outgoing is one. Smart move indeed, or else she might have to take on all the responsibilities of running the Club herself!
When the chairperson spoke, everybody sat up to listen. That, I consider, was a understatement because when ATM-B Lim Mui Len took charge of the podium to deliver her maiden speech as the third president of the Club, the huge grand ballroom of Pacific Sutera Hotel was in absolute silence. Literally speaking, you could hear a pin fall on the carpet. Every member of the audience was totally captivated by her speech; a true display of Toastmaster competency at its peak. Then we had our very own Master of Ceremony, TM David Sivapatham, who was quick to connect with the audience by proclaiming himself a Bollywood star. Entertainment, although staggered at the later part of the programme, was incidentally moved forward with the introduction of much humour from the moment TM David took over the microphone.
There were lucky draws, the grand price being a Return air ticket to Hong Kong sponsored by Dragon Air. None of our club members won anything from the draws but they all walked away as the ultimate winners. The experience they acquired by organising a function of such magnitude; the comradeship they nurtured through the sharing of common objectives; the fun and anxiety during the two to three months of struggle; the pride of being in a winning team; and the enhancement of old and new acquaintance during the party would no doubt become memory of a life time.
The dust finally settled and when all damages and fortunes were counted, the Club was richer by RM xxK. Thanks to the super-selling skills of some of our members who were able to convince the general public that it was a great selling tool to advertise in our souvenir magazine. Why? It was all the Toastmaster competency at work again. Speaking with impact, convince your audience, speaking with sincerity and enthusiasm ...
---
Last updated: 31 Oct 2000
http://ibbmstc.tripod.com/
Contact IBBM Sabah Toastmasters Club: ibbmstc@hotmail.com
Webpage created & designed by JChong (jcphen@hotmail.com)