Open in alternate window
History of IBBM Sabah Toastmasters Club
The IBBM Sabah Toastmasters Club (7671-51) was initiated by the former Chairman of IBBM Sabah, Tuan Hj. Hasbullah Hj. Abdullah. At the same time, IBBM Kuala Lumpur gave its full support in ensuring that the new club got all the assistance to get off the ground.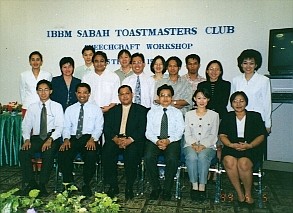 A preview meeting was held on 11 July 1998. A group of bankers met at the IBBM Sabah Branch Centre for a meeting with the Area K1 Governor, ATM Francis Tham on how to charter the proposed IBBM Sabah Toastmasters Club. At the meeting, ATM Francis Tham explained to the bankers why public speaking skills are needed and how the Toastmasters Club can help in providing every member with the opportunity to develop communication and leadership skills. At the end of the meeting, the Protem Committee members were elected. The Club's mentors were CTM Nancy Tham and CTM Agnes Yap. ATM Francis Tham and DTM TC Lim were the Club sponsors. All of them are from Kota Kinabalu Toastmasters Club.
Our first training meeting was held on 15 August 1998 at the IBBM Sabah Branch in Gaya Street, Kota Kinabalu. It was attended by twelve members and four guests from the Kota Kinabalu Toastmasters Club who came to help out as role players. The Kota Kinabalu Toastmasters Club has continued to give their support to our Club right up to the present.

The first installation of the chartered committee was performed by the Area K1 Governor 1998/1999, ATM Francis Tham on 5 December 1998 at the Karamunsing Hotel. The Guest of Honour at the function was our District 51 Governor 1998/1999, DTM Datuk Dayang Adeline Leong. The 26 charter members were also presented on stage to receive their membership certificates from the Guests of Honour.